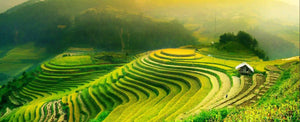 Uncompromisingly good
Tracking down exquisite culinary rarities, which we gently refine into organic dishes for connoisseurs, is a matter close to our hearts at LOTAO. We would like to pass on this knowledge about extraordinary foods and with it
while safeguarding centuries-old traditions. This is how innovative products are created, with which we would like to inspire connoisseurs to take a culinary journey through different national cuisines.
Our vision: fair, ethical and responsible
We are only satisfied when our vegan food is uncompromisingly good. We don't make any compromises on the way there either: We want to produce ethically, fairly and sustainably.
We share this vision with our farmers and make it our common mission. It extends from production and packaging to delivery to our customers. With us you will therefore receive vegan, sustainable organic food that
easy to prepare and guarantee you enjoyment with a clear conscience.
Our journey so far
During a trip to the Mekong Delta, LOTAO founder Stefan Fak was amazed by Vietnam's almost limitless rice fields. This fascination for the culture and cuisine of rice finally led to the founding of LOTAO in 2010. What started out as a one-man start-up for the import of exclusive types of rice is now a medium-sized company with a focus on innovative, vegan country cuisine. LOTAO rice specialties now also sell special sugar, coconut, lotus and veggie mince products.
Innovation - modern, vegan convenience products
We find it exciting that we were able to set a direction with our innovations in the vegan convenience sector. In the past, the expression "ready-to-eat" was often not associated with too much positive connotations. Innovative LOTAO ready meals, on the other hand, are of high quality and uncompromisingly good in terms of ingredients, quality and taste. A discovery for all those who want to eat healthy and uncomplicated.

Origin of the name
Derived from the Creole "Lo" for gold and from "Mag Tao" from the Filipino Tagalog for "peoples", LOTAO means "the gold of the peoples". This name stands for our passion for digging up unknown treasures and thereby inspiring connoisseurs to make culinary discoveries.
Sustainable for people, the environment and the climate
Sustainable, ethical action determines the entire LOTAO supply chain from cultivation to delivery. We pay fair prices to our farmers, support them with training and certification, and have our own environmental sustainability project in India.
It is also important to us that we do not lose sight of our ecological footprint in everything we do. In 2021 we achieved climate neutrality for two of our jackfruit products for the first time. With the compensation we support a solar project and a project on the future for children. And exactly where our jackfruits come from.
What sustainability means to us?
In India, Lotao supports a further training project for Indian farmers who grow jackfruit together with an agricultural foundation and the German Investment and Development Aid Society.
More information about our cooperative
Credible partner for conscious connoisseurs
LOTAO is the brand for connoisseurs who want to discover sustainably produced delicacies from all over the world. Whether vegan, vegetarian or flexitarian, if you appreciate high-quality food, enjoyment and variety, you will find what you are looking for with us.
Whether you prefer to cook something more elaborate or like to use ready-to-cook convenience foods, you can always rely on LOTAO:
• Only selected, high-quality organic ingredients
• No flavor enhancers, colorings or preservatives
• a varied vegan range of well-known national cuisines
• Our innovative (semi-)ready meals are quick to prepare and finely seasoned
and seasoned and inspire you to create your own creations
• Our Jackfruit range with pea protein tastes and looks the best
perfect alternative for meat
With LOTAO products you enjoy consciously and not only keep an eye on your own well-being. At the same time, you also support our mission of sustainable, fair production and ecologically responsible action in the producing countries.