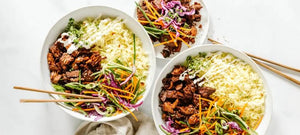 Real enjoyment. Of course vegan.
100% natural ingredients
100% Vegan
100% enjoyment
Buying rice from Lotao means appreciating the special.
Rice: more than just a white side dish
rice is white Or brown. If it's brown rice. That's not entirely true! Rice is bright pink, jet black, umbra red or even rich yellow. If it is one of our exotic rice varieties. With Lotao's variety of rice, connoisseurs can embark on a culinary voyage of discovery to distant cultures and their extraordinary treasures. For our rice specialties, our taste scouts only select those producers who cultivate rare varieties of rice and who also fulfill their social and ecological responsibilities. Extraordinary rice, which can be bought online from us, enriches the creations of hobby cooks and top gastronomy in a tasteful and aesthetic way.
Always drowning rice in sauce as a satiating side dish does not do justice to this treasure of mankind. Buying rice from Lotao also means getting a main character on your plate, around which a dish is arranged. Not just white rice, but fragrant rice in bright colors with exotic flavors that emerge from the shadowy existence as mere staple food.
Rice: a small grain feeds the world
Almost 510 million tons of rice were harvested worldwide in 2020/2021. While an average consumption of just under 7 kilograms per capita is calculated in Germany during this period, the situation is very different in large parts of the world. Rice consumption is already increasing in neighboring European countries, where people like to enjoy rice as paella or risotto. Nevertheless, in Europe, rice is seen more as one of various possible side dishes, although the nutritious grains with many vitamins and minerals are the staple food for at least half of the world's population. According to Statista, the average per capita consumption of rice worldwide in 2022 is therefore expected to be 68 kilograms.
How do the different types of rice differ?
Basmati rice, jasmine rice, long grain rice, rice pudding, wild rice, parboiled rice - who can keep track of everything? Basically, however, only two types of rice are cultivated: Oryza sativa and Oryza glaberrima (African rice). No matter how many different types and varieties of rice there are, every rice we cook or boil is derived from Oryza sativa in some way.
Good to know: Strictly speaking, what is commonly referred to as "wild rice" is not rice at all. Namely, the dark grains of sweet grasses belong to the genus paddy rice/Zizania and not to the genus Oryza .
When it comes to buying rice, the first big decision is usually long-grain rice (over 6 millimeters in length) or short-grain rice (maximum 5.2 millimeters). For the sake of completeness, it should be mentioned that there is also medium grain rice. Incidentally, more than 120,000 different types of rice are known worldwide, which are suitable for different dishes due to their properties.
Retailers often make it easy for us by printing "risotto rice" or "sushi rice" on the packs, for example. Even if you're not a RISO like Lotao founder Stefan Fak [Link], it's easy to buy the right rice for the dish you want.
Ten popular types of rice, their origins and uses
Arborio rice
A medium-grain variety that is mainly grown in the Italian Po Valley and Piedmont. The Italian rice variety with the largest grains. Excellent for risotto.
basmati rice
A fragrant, extra long grain rice grown at the foot of the Himalayan Mountains. Basmati grains are narrower in length-width ratio than other long grain varieties and have the characteristic odor even when uncooked. Typical side dish in oriental cuisine.
Bomba rice
A real Spaniard who comes mainly from the regions of Murcia and Valencia. Has a lower starch content compared to other short grain varieties. This keeps the paella nice and grainy!
Carnaroli rice
Considered the best Italian rice variety, therefore it is more expensive than its "compatriots" Arborio and Vialone. Carnaroli rice, grown in the Piedmont region with a protected designation of origin, has compact grains and is ideal for a creamy risotto with bite.
Jasmine Rice
The name says it all: even when cooking, its grains smell pleasantly of jasmine, which is why it is also called "scented rice". This long-grain rice is mainly grown in northern Thailand, in Laos, Vietnam and also in Italy. Ideal as an accompaniment to Asian dishes and for rice tables.
Rice pudding
Since this term is often read, it should be included here, even if "rice pudding" basically just stands for short-grain rice. These varieties contain more starch and therefore stick together better when cooking. Exactly what you want from your rice pudding.
Patna rice
A long-grain rice with long, thin grains, its name comes from the north-west Indian city of Patna. Since it has a neutral taste, Patna rice can be used in many different ways.
Red rice
Red rice varieties come from Asia, India and the Camargue, for example. They are long-grain or medium-grain rice varieties with a red layer of bran, in which anthocyanins – secondary plant substances – provide the color. As a rule, these are sold as untreated whole grain rice or brown rice.
mochi rice
Is a short-grain rice and is also called sweet rice or sticky rice. Originally comes from Japan as whole grain rice, where it is used for desserts.
Black natural rice
The whole grain rice with a nutty taste originally comes from China. In the meantime, it is not only cultivated in Asia, but since the 1990s it has also been known as a hybrid of Venus rice in Piedmont.
A journey begins with every grain
If you've got a taste for it, feel the urge to explore and want to set off to new culinary shores with unusual organic rice varieties, we recommend our Lotao shop. Buying rice online at Lotao means choosing between a colourful, exotic variety of rice varieties. Our tip: It's best to try them all once.
The LOTAO classics basmati and jasmine rice
Our two classics, organic basmati rice and organic jasmine rice, are true all-rounders. Fragrant and aromatic on the one hand and the other with a slightly flowery aroma, they go well with many dishes. Whether with Thai curry, Indian dal or wok dishes, or as an accompaniment to fish, meat and vegetable dishes - LOTAO basmati rice and LOTAOjasmine rice are the perfect addition. By the way, both are available as white rice as well as whole grain rice. Our Basmati & Wild Rice Mixture refines aromatic, fragrant Basmati with nutty, characterful wild rice and is used in the same way in the kitchen as pure Basmati.
LOTAO's exceptional rice varieties
Our short-grain Prince of Bengal rice not only enriches curries or vegetable dishes with its sweet and buttery aroma, but is also ideal for desserts. This baby basmati rice comes from the traditional cultivation of a cooperative in West Bengal, where it is produced exclusively for LOTAO and marketed by us. In this way, we guarantee small farmers independence from large corporations and fair prices, and consumers can enjoy themselves with a clear conscience.
Our Pink Rice Glam Wedding conjures up Bollywood flair on every table. The pink-pink color of this basmati comes from the addition of beetroot juice and granules. Glam Wedding is not only a feast for the eyes! In terms of taste, it impresses with a fine, fruity note, which it owes to orange essences and Chinese sea buckthorn. Grainy and light, this pink rice is ideal for meat dishes, fish, game and vegetables. But also risottos or paellas give a very special flair.
Smoked Rice Oriental Sensation is less girly, but hearty and spicy, an unmistakable one   Basmati specialty that comes to perfection with the Persian art of incense. The world's first smoked rice in certified organic quality is only sold by LOTAO. It goes well with fish, smoked meat and spicy dishes.
Golden Rice Turmeric Sun turns into a bright sunny yellow when cooked. For this, a light basmati is enriched with the finest rasps of health-promoting turmeric. Its fine turmeric note goes well with Asian vegetable dishes as well as with fish and grilled meat.
For a change, how about an absolute rarity, the red wholegrain rice Red Rice Indian Tiger , which looks just as good with classic meat dishes or in pilaf as it does in a rice salad? Indian Tiger is a strong, grainy rice that comes from the cooperative of Indian woman Vandana Shiva. Since the yield per hectare is low, cultivation is difficult and there is only one harvest per year, only a few farmers have specialized in this characteristic red rice.
With the noble Black Rice Royal Pearl , our journey of pleasure now takes us further to China. From time immemorial, this black wholegrain rice was strictly forbidden to mere mortals, only the rulers were allowed to enjoy it. With 10 percent protein, it is considered one of the most protein-rich rice varieties in the world. It is crunchy and has a strong, nutty taste, which makes it a wonderful match for hearty meat or spicy fish dishes.
The best thing to do is go on a journey of discovery right here in the shop and buy rice online!
Buy sweet soul food rice pudding online at Lotao
Rice can not only be spicy, but also sweet! Who doesn't like to remember favorite childhood foods like sweet rice pudding or rice casseroles? Especially in difficult situations, we unconsciously choose such soul food or comfort food because we subconsciously associate it with emotional well-being.
With the Rice Pots, Lotao has developed a rice dessert that you can enjoy without a guilty conscience. Sweet childhood memories meet uncomplicated, vegan organic food here. Instead of the traditional short-grain rice, instant long rice grains provide a heartier taste experience, and coconut milk powder replaces cow's milk.
Pampering yourself with comfort food and doing something good at the same time is child's play with Lotao's rice with heart . This rice pudding made from a Bengali organic rice mix with pieces of apple and cinnamon can be individually portioned. With milk or plant milk, it is then quickly prepared. Incidentally, the net proceeds from each pack sold go directly to the association "Be an Angel eV"
Rice with a heart - buy Lotao rice pudding online here