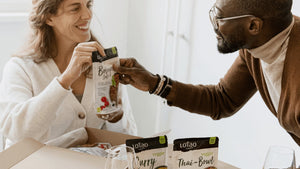 Real enjoyment. Of course vegan.
100% natural ingredients
100% Vegan
100% enjoyment
Enjoy and save with the LOTAO bundles
To try and be inspired: LOTAO introductory sets
For anyone who likes to try out new things and would like to try out our product range, our introductory sets are an ideal way to get started.
For example, there is our veggie mince introductory kit , each with two natural vegan mince granules and two finely seasoned veggie meatball mix. Let this set inspire you to new cooking experiences and prepare chili, spaghetti Bolognese or a hearty casserole with meatballs in a new and meatless way.
A jackpot doesn't like to come alone - that's why we have it in a duo, as a Bolognese and as a curry. So you can try which of our vegan 5-minute dishes will be your favourite. Both? All the better, then take a look at our great value packs below!
The BBQ & Rice Set surprises you with two types of burger patties and pulled jackfruit in a spicy BBQ sauce. There is also protein-rich black rice with a strong, nutty aroma. A bundle for all BBQ fans, with or without a grill.
With our family dinner set with two different rice specialties and ready-to-cook chili sin carne , you can try out the vegan alternative to the popular classic with family or friends. If you got a taste for it during testing, why not try our veggie mince set of three right away. You can use it to prepare your very own version of chili.
Should it be a feel-good snack at the end? How about a creamy rice pudding? With our Rice Pots in a set of three, you can try your hand at cinnamon, vanilla and chocolate.
Enjoy with cheap value packs
We have put together attractive value packs for all connoisseurs who have already found their LOTAO favourites. Compared to ordering individually, our popular bundles not only save costs for products and packaging. Since all our organic foods have a long shelf life, our sets of two to eight are also perfect for your storage needs.
Save time with vegan convenience sets
Our savory jackpots and sweet rice pots in sets of eight or six will even accompany you through your entire (working) week. With this stock of clever convenience dishes, you never have to worry about whether you have enough time for a proper lunch or whether you can cook something healthy in the evening.
You can also prepare a delicious lunch or dinner in no time with our popular 3-minute dishes Chili sin Carne and Vegan Bolognese Sauce . You get both varieties in a set of three, the set of four even contains both dishes.
Our three-pack with lotus stews in three flavors in a mix or according to variety is another "hot" tip if you need something quick in or after the office. On the other hand, our three-piece sets of lotus spreads with crushed lotus seeds promise you cold gourmet cuisine. You can also buy these as a mixed trio or in different varieties.
All of these value packs are not only wonderfully suitable for stocking up at home. You can also take them with you to the office and keep them there, because they don't have to be stored in a cool place. Maybe you even give dear colleagues a round to try?
Our tip: Our Crispy fruit snacks are a great help against the dreaded afternoon slump. Crispy Jack and Crispy Snakefruit come in a set of two – snacking together is much more fun, as we all know!
Popular bundles for your storage
Do you like to cook for yourself and do you take the time to do it? Then natural jackfruit in a can in an affordable pack of three or six is ​​your partner for all dishes in which you want an alternative to meat or chicken. Natural jackfruit are young, untreated pieces of jackfruit that you can prepare according to your taste. Marinated and fried, as a curry, hearty chili, in the wok or as a sliced ​​​​- here you can let your creativity run wild.
Our veggie mince set of three is waiting in the cupboard for you to use to conjure up one of your favorite "mince" dishes. Isn't there enough time this time? Then you definitely have a delicious plan B with our four-pack Chili sin Carne/Vegane Sauce Bolognese .
For desserts or pastries without white household sugar, we recommend our double pack of Java Kiss coconut blossom sugar . Its good solubility, vitamins and nutrients, combined with a low glycemic index, make it the ideal sugar alternative.
Culinary gift sets for connoisseurs
Finding the right gift for every occasion is not always easy. In such situations, gift sets that are right in the middle between "impersonal" and "overly personal" are popular. Incidentally, giving away something sustainable and meaningful is now trendy!
Our culinary LOTAO gift sets have all of the characteristics that an ideal gift should have "just in case": sustainable, practical, useful and just the right balance between being too anonymous and too individual.
By the way, our sets are not just a tasty surprise for vegans or vegetarians. Fine rice and exotic snacks are always very popular. And a vegan tasting set is sure to be an inspiring culinary experience for adventurous meat eaters too.
Exquisite specialties in a set with the LOTAO bowl
With our two pretty rice sets or the jackfruit set you can give yourself or loved ones a special treat. Good to know: The LOTAO Black Bowl included in the bundle can also be purchased separately for future "fellow eaters".
The Colors of Rice set is colourful, modern and cheerful with the two basmati specialties Glam Wedding and Curcuma Sun. Rice dishes taste just as good as breakfast muesli from the elegant ceramic bowl.
The Black & White set, on the other hand, is strong, spicy and exotic. Here we combine the LOTAO bowl with our unique black wholegrain rice Royal Pearl from China and the Oriental Sensation smoked according to Persian tradition.
We have also bundled our jackfruit duo into a set with the Black Bowl. LOTAO Jackfruit Duo is ideal for a healthy lunch in the office, because the jackfruit goulash or jackfruit curry only needs to be heated up briefly. Then you can fill it into the matching bowl supplied and enjoy.
LOTAO gift vouchers – also last minute
A value voucher for our online shop is not only a great gift idea for vegans or vegetarians. You are also spot on for gourmets and connoisseurs who value the highest quality and new taste experiences. With our vouchers worth €25, €35 or €50, the recipient can browse to their heart's content and be inspired.
By the way, if a spontaneous invitation snows into your house again, you only need two minutes to simply and conveniently print out the appropriate voucher. The trip to the flower shop or wine dealer for a souvenir is then superfluous!