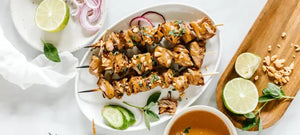 Enjoyment without compromise.
100% Natürliche Zutaten
100% Vegan
100% Genuss
Sold Out
In den Warenkorb
In den Warenkorb
Jackfruit - traditional fruit from Southeast Asia
Straight from the tree
Jackfruit is one of the most valuable fruits for a vegan diet. It is considered a product innovation in this country, in fact it has long been an important source of food in South Asia, but also a cultural and economic asset.
Archaeological discoveries show that jackfruit was cultivated in India over a thousand years ago. Today the country is the largest producer with 1.4 million tons (2017) - ahead of Indonesia, Sri Lanka, Thailand, Malaysia and Brazil. The jackfruit tree is valued for its fruit, but also for its sturdy wood.
The appearance of the jackfruit fruit is rustic: hard and prickly on the outside, its flesh has a tender consistency and a sweet taste when ripe. The botanical genus is related to the mulberry and fig. The fruit is considered the largest tree fruit in the world. The culinary popularity of jackfruit thrives on its enormous versatility, which is also determined by the variety of varieties and degree of ripeness.
Degree of maturity and diversity of varieties
Basically, a distinction is made between unripe - called "green" or "young jackfruit" - and ripe jackfruit. The former is harvested when the fruit is fully formed but not yet ripe. At this point, the flesh is tender and has a neutral taste. When plucked, it has a consistency like pulled pork. This special property makes the fruit more and more popular worldwide as a meat alternative.
The ripe jackfruit, on the other hand, is characterized by a crunchy consistency with a sweet and fruity taste profile reminiscent of pineapple and banana. It is mainly enjoyed raw or in the form of chips as a light snack.
Many varieties are grown in South Asia, which differ significantly in appearance and taste. The large jackfruit fruits with yellow and fragrant flesh are particularly well-known.
Our producers: organic farming cooperatives
LOTAO offers the sweet chips made from the jackfruit variety Nangka Salak from Central Java. With its crunchy consistency and balanced taste, it is the ideal basis for our jackfruit chips. Nangka Salak is grown by a purely organic farmers' cooperative in Banjarnegara, a region of central Java (Indonesia) that is characterized by rainforest and agriculture.
The cooperative cultivates the plant with other crops as a mixed culture. This diversity ensures a stable ecosystem. The nutrient content of the soil remains stable and the large number of species ensures sufficient resistance to pests. No pesticides or chemical fertilizers are used.
The producers and exporters of LOTAO's organic jackfruit are certified by the Indonesian government, EU and USDA (USA).
We source our young tender jackfruit, which we use as a meat alternative, from an Indian farmer's cooperative, where the fruit is harvested by hand. The products of the association of farmers are certified with the organic seal of approval of the EU and USDA of the USA.
This cooperative is also supported as part of an EU development project. We as a company are actively involved in this. Our goal is to support the professionalization of sustainable regional jackfruit production that relies on mixed cultivation. To this end, young farmers are trained and supported on their way to independence.
Traditional fruit from Southeast Asia
Versatile
Ideal for vegan diets
High-fiber meat alternative
Jackfruit: High in fiber and delicious
With the purchase of our products you support these cooperatives. But you are also doing yourself good. Because for vegans and people who want to limit their meat consumption, jackfruit is a tasty option. The fruit is rich in potassium, vitamins C and A, magnesium, fiber and antioxidants. It can be used as a meat alternative in a variety of Western European dishes. The green fruit has a fleshy texture and a neutral flavor that combines well with spices. But it is also worth discovering the culinary tradition of South Asia with her.
There it is an important part of many national dishes. It is served at any time of the day – even in the morning. For example, idlis is a popular traditional breakfast dish in southern India, for which a fermented batter of jackfruit and rice is prepared and made into steamed cakes.
Kota gudeg, on the other hand, is a popular Indonesian dish for which jackfruit, coconut milk and palm sugar are first boiled and then served with rice, garlic, shallots, candle nuts, coriander seeds, bay leaves and teak leaves. It's so popular in the university city of Yogyakarta that the name has earned it the city's nickname: City of Gudeg.
Our tip: definitely try it out!
We offer you jackfruit as a meat alternative in unprocessed form, but also as a quick-to-prepare convenience dish: You have the choice between curry, goulash, barbecue and natural, and the delicious veggie balls and burgers. We also carry various fresh products and sweet snacks. Discover the delicious taste of jackfruit. Worth it!