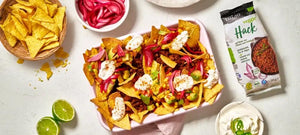 100% natural ingredients
100% Vegan
100% enjoyment
Veggie mince and vegan meat specialties
Whether spaghetti Bolognese, chili, lasagne or the typical German cabbage rolls, meatballs or meatballs: minced meat can be used in many ways and our kitchen would be inconceivable without it. No wonder that there are now many, sometimes quite different, meat substitutes for the traditional minced meat made from beef and pork.
Connoisseurs who want to eat consciously have long had a wide choice when it comes to veggie mince. An overview and the right choice are therefore very difficult for some. According to which criteria can vegan or vegetarian mince be distinguished?
Veggie Hack - the little difference
First, let's look at the ingredients. Veggie mince can be made from a wide variety of basic plant ingredients. The majority of common minced meat substitutes consist of soy protein, which is now, however, highly polarizing due to the cultivation methods of soybeans and their consequences. Rainforest clearing in Brazil, monoculture and therefore the use of pesticides or the enormous water consumption are given here as counterarguments, for example. However, soy cultivation is not only unfavorable for the environment and climate, the consumption of soy products can also lead to histamine intolerance.
Fortunately, there are now many minced meat alternatives that do not require soy. For example, based on sunflowers, mushrooms, also a pea protein mince, also based on grain. Some products also contain a proportion of jackfruit, mainly because of the texture, such as our veggie mince. This is made up of 90 percent pea protein and 10 percent jackfruit.
Health and environmentally conscious connoisseurs should first answer the crucial question "soya or not" when choosing their vegan mince. It is just as important to pay attention to the organic origin of the raw materials used. In addition, possible preservatives or additives for taste, color, consistency and shelf life. By the way, there are also big differences in the nutritional values ​​of the veggie mince products, for example in terms of fat and protein content. A look at the label provides information here.
Vegan mince – the way it is prepared also counts
After that, personal habits and use in the kitchen are more important. Do you want your veggie mince to be deceptively similar in structure and colour? Should it be crumbly or rather coarse? Almost any vegan minced meat is suitable for pasta sauce or lasagne. On the other hand, if you want to shape the veggie mince into stable meatballs or meatballs, not every product is equally suitable.
Good to know: Jackfruit pieces are an ideal alternative for dishes that require a consistency similar to sliced ​​or diced meat.
At LOTAO we have the right product for all tastes and applications. Veggie Hack Natur or the seasoned dry mix for meatballs, both made from pea protein and jackfruit, have a rather crumbly consistency. You can find the right pieces as young natural jackfruit in a can or as natural jackfruit in a bag.
In what form is veggie mince offered?
There are currently three different forms of vegetarian or vegan ground beef. For example, Lotao Veggie Mince is offered as a pea protein mince, a dried product based on peas and jackfruit [m1] . It is basically a granulate that has to be allowed to swell before use. Completely ready-to-cook mince substitutes from other manufacturers can be found either as vegan "fresh" mince in the refrigerated section or even deep-frozen in the deep-freeze counter.
Lotao Veggie Mince Granules are manufactured using what is known as an "extrusion process". The raw material mixture is forced through a hot nozzle under pressure and then immediately cooled. Lotao Veggie Mince is therefore a lightly processed convenience product and therefore ideal for a health-conscious diet that moves away from highly processed foods. In addition, our pea protein mince is the ideal basis for our broad "Hack & More [m2] " product line.
What are the benefits of Lotao's Dry Veggie Mince?
Vegan mince as a granulate based on peas and jackfruit, as we offer it at LOTAO , is a real "joker" for you and the climate :
it takes up little space in the pantry
it does not need to be refrigerated
it has a long shelf life even when opened
Lotao Veggie Mince is still free of preservatives
dry veggie mince already saves resources during packaging and transport because it has little volume and weight
it also saves time and resources in the kitchen, since the cooking time for vegan mince is generally much shorter than for the animal "original"
High-protein alternative: Lotao Veggie Mince
Our vegan mince is carefully processed from organic ingredients based on peas and jackfruit [m3] , is purely plant-based, gluten-free and allergen-free. In addition, it contains little fat, no flavor enhancers, coloring or preservatives.
Attention protein fans! In general, vegetarian or vegan minced meat has a higher proportion of dietary fiber and, above all, protein compared to animal products. In contrast to animal minced meat, which contains an average of 18 percent protein per 100 grams, Lotao's pea protein mince has an impressive 70 percent protein content.
Our minced meat substitute is not only a highlight in terms of nutritional values. The combination of peas and jackfruit also gives the product an amazing texture and bite that makes it a versatile alternative to ground meat.
Lotao Veggie Mince: quick and easy to prepare
In the bag, our veggie mince based on pea protein and jackfruit flour makes itself very small, which is good for our environment and practical for your storage. However, once you use it, it ramps up to great shape! A portion of minced granules results in three times the amount of ready-to-cook veggie mince after pouring.
And it's that easy: Pour 250 ml of water or vegetable stock for every 50 grams of vegan minced granules. Wait two minutes. Drain, squeeze out a bit if necessary - and Lotao Veggie Mince is ready for the pot or pan!
A lot can be done afterwards with Lotao's vegan mince. It is unseasoned, making it suitable for many mince-based dishes. In addition to hearty German kitchen classics such as cabbage rolls or casseroles, we also serve all of our favorite Italian dishes. Be inspired by our colorful variety of recipes!
Are you a big fan of Swedish köttbullar or Italian polpette? Or do you still need a nutritious topping for your bowls? Then our deliciously seasoned veggie meatball mix is ​​just what you need! Pour on, allow to swell, form balls and fry for about 5 minutes until crispy all over. Your vegan meatballs are ready to enjoy immediately or for further processing.
Our tip: Jackfruit as a substitute for minced meat
Opinions differ on the perfect curry or chili: Some prefer these dishes with minced meat, while others swear by coarser cuts of meat. Both are authentic and therefore "allowed", because the recipes vary depending on the region. More bite, a bit chunkier, a nice texture similar to meat, and all that plant-based? Not only vegans or vegetarians, but also flexitarians who want to consciously reduce their meat consumption value jackfruit precisely because of these properties. When unripe, jackfruit's fibrous texture and neutral flavor make it an ideal meat substitute. Young jackfruit can be marinated wonderfully and absorbs sauces and spices perfectly. So if curry, chili, wok or pan dishes should be a little heartier than with the finer veggie mince, then Lotao Jackfruit Natural Vegan or Lotao Young Jackfruit in a can are exactly the right choice. Low in calories, with many nutrients, organic, allergen-free, without additives and unprocessed.