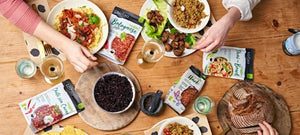 Real enjoyment. Of course vegan.
100% natural ingredients
100% Vegan
100% enjoyment
LOTAO products: Vegan & uncompromisingly good
Welcome to the LOTAO world, where you can go on a culinary trip around the world with vegan specialties. Let our honest organic food lead you to new taste experiences and inspire you to be more creative in the kitchen.
If you value sustainable organic quality and conscious, healthy enjoyment, our product range will definitely appeal to you, regardless of whether you are vegan or flexitarian. What you are guaranteed not to find in our organic range are flavor enhancers, preservatives, artificial colors or flavors.
LOTAO sample packages: veggie mince, rice and quick dishes
If you just want to try out our variety across the board, then take a look at our introductory packages. They offer you great opportunities, for example to discover our veggie mince range or to enjoy exquisite rice and sugar varieties and snacks made from exotic fruits. Our BBQ and rice set or the family dinner also invite you to taste vegan specialties together with family or friends.
Uncompromisingly good is our motto. This has inspired us, among other things, to revolutionize the range of ready meals that has often been underestimated up to now. "Quick cuisine" at LOTAO, these are our innovative vegan (semi-)ready meals. All in organic quality, delicious and easy to prepare and only from healthy ingredients without any frills.
Something warm, something cold or something to snack on in a maximum of five minutes? From savory jackpots, sweet rice pots, stews and spreads with lotus seeds or our Veggie Bolognese and Chili sin Carne, we have put together many attractive bundles for you to get to know and try.
The LOTAO Veggie Mince and Jackfruit range
Unlike other suppliers, we use neither soy nor artificial additives for our unseasoned veggie mince. All items in our vegan mince range are made from 100 percent pea protein and jackfruit. You get our mince as granules, which you just pour on and let swell before cooking. Ideal for you, as it does not need to be refrigerated and takes up little space in the pantry.
If you want to go a little faster, there is a whole range of delicious semi-ready meals based on our protein-rich LOTAO veggie mince and natural jackfruit pieces. There are, among other things, our veggie balls and veggie burgers, veggie curry, ragout or Bolognese, all of which leave you room for your own creativity.
Immerse yourself in the colorful world of rice
Of course you get the best jasmine and basmati rice from us, both as white rice and in the whole grain version. However, organic rice from LOTAO is much more than just a tasty side dish. With our rare rice specialties from Asia you go on a colourful, culinary journey of the senses.
Should your rice be black today, red tomorrow, yellow the day after tomorrow, then pink or even smoked with a spicy touch? Do you want to smell and taste different every time? We make it possible. With exquisite rice from LOTAO you can awaken all your senses and surprise guests with sophisticated creations.
Sets to enjoy and save
Have you already found your LOTAO favourites? Then use our bundles to stock up on supplies and shop in a sustainable and environmentally friendly way. All our organic products have a long shelf life and are easy to store.
So there's nothing wrong with getting a month's supply of Veggie Hack, for example with the inexpensive 1-kilo package. Our young jackfruit in the tin, which is available in an inexpensive bundle of 6, also has a shelf life that feels "forever". Or how about a value pack of Jackpots, Chili sin Carne or Rice Pots so that you can enjoy a healthy, vegan meal quickly and easily during breaks?

In our shop we have different packages. For every mood, every time of day and every taste.
Uncompromisingly good.
Like everything at LOTAO.