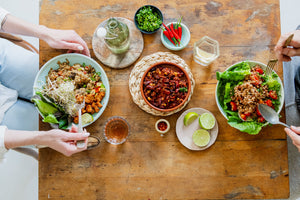 Lotao for Foodservice and manufacturers
Discover your opportunities as large-scale consumer
Whether in the capital's trendy restaurants, hotels, hospitals, university canteens and employee restaurants or residential homes - in numerous gastronomic establishments delicious and sustainable-hearty dishes are already being cooked with LOTAO jackfruit.
In fact, the young jackfruit is a fruit that grows on trees, but resembles tender chicken in bite and texture and is the perfect base for strips, curries, burgers, wok and stir-fries. The neutral taste combines excellently with spices and marinades, which means that there are no creative limits for chefs.
LOTAO Jackfruit is the ideal addition to any menu: 100% organic, vegan, low-fat, rich in fiber and without allergens and additives that must be declared. It comes from our Indian smallholder cooperative and is harvested by hand. With this we support sustainable agriculture in India and the jackfruit organic farmers a fair, sustainable income.
Our bulk products can be conveniently ordered from our shop. If you are interested in larger purchase quantities, please do not hesitate to contact us - we will be happy to make you an individual offer.
We also offer suitable bulk packs and individual solutions for the processing industry. Feel free to contact us, our experienced team will provide you with competent answers and tailor-made solutions.

Lotao in specialist wholesale
These customers are already excited
Jackfruit from LOTAO is a great meat alternative that can be seasoned individually and has a very meat-like consistency. Our Buddha Bowl with jackfruit is a hit with our guests, many already know jackfruit and specifically ask about it in our café .

Tobias Koenig

Owner of ISEGRIM CAFÉ | BAR, Munster
The Jackfruit Veggie Hack from LOTAO is super easy to process and, when soaked in water, produces three times the amount. We use the mince for our vegetarian Maultaschen, which we sell in our 15 branches and which are very well received by our customers!

Hans-Jörg Weber

Managing Director of Scheu+Weber butcher shop, Owen
Andreas Schneider
Head of Key Account Management and Deputy Managing Director
Tel.: +49 0 30 4202572 0
jens.poehnisch @ lotao.de