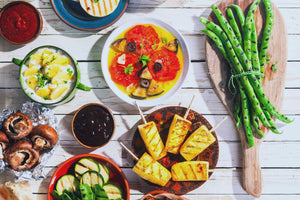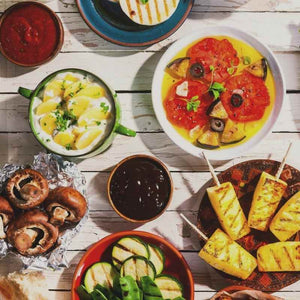 Recipes, interesting facts & sustainability
The Lotao Blog: Vegan Recipes, Sustainability & More
Welcome to LOTAO's new food blog! So that you can find your way around here quickly, we have sorted our blog clearly and built it on just three major pillars.
Lotao Food Blog with rice, jackfruit and veggie mince recipes
On the one hand, you will of course find exactly what you expect here in the Food Blog: a colorful mixture of healthy recipes. Whether you are inexperienced or a professional in the kitchen, there is something for everyone in our recipes. Take a look around in our subcategories "BBQ & Snacks", "Country Cuisine", "Classics" or "Sweets".
We at LOTAO do not expect that everyone will always switch to alternatives to animal products. Our aim is to provide carefully processed vegan food in organic quality
to offer that taste equally good to vegans, vegetarians and flexitarians. Our jackfruit and pea protein products are the perfect substitute for meat or chicken. So everyone can decide for themselves on which basis to cook, stew or grill.
You will therefore mostly find vegetarian or vegan recipes here in the blog, but from time to time we have also cooked with fish or poultry when selecting our recipes. Good to know that you can now easily replace animal products with vegan substitutes. Vegan salmon and vegan shrimp are now available online and in well-stocked retail outlets. For example, you can substitute poultry meat with our natural jackfruit.
Lotao Good to Know: Interesting facts about your diet
Here you will find a lot of things that are new to you, such as background information on the raw materials used by LOTAO. But we would also like to introduce you to new products, projects or general nutrition tips. For example, you can find out what's really going on with the trendy superfood lotus, get to know the snake fruit or deepen your knowledge of jackfruit. Background articles and interviews on the topic of nutrition complete the whole thing.
Lotao – Sustainability is very important to us
A third major topic that concerns us here at LOTAO is the issue of sustainability. Here we present, among other things, our projects with which we ensure a sustainable production and supply chain. Whether climate neutrality, sustainable environmental projects or the ecological balance of the jackfruit, we have our finger on the pulse and also ask ourselves critical questions.